This Solstice – a Manifesting Experiment for you to Try…
I trust you had SUPER Solstice (whether a Summer Celebration or a mid-Winter Reflection).
This Solstice, I have a Manifesting Experiment for you to try for the next week.
Encapsulated in one word, it is:
SATISFACTION
First, a personal story…
Since moving to Portugal in 2021, we've been stuck in a web of icky-sticky, frustrating, bureaucratic nonsense around Geoff and Luke's Residency that we have ZERO control over. From being caught in the political fall-out of Brexit, to backlogs in processing due to Covid, to the lethargic and sloth-like pace of bureaucracy – it's been unbelievable.  
In the first year, I spent much of my time fighting it and being angry and upset.  
I forgot my own teaching about the Foundation of Manifesting being "EASE".
In May last year, I woke up and realised that my stress and frustration were dramatically impacting me. In a moment, I let it go.  
I chose ease instead. 
I stopped thinking about the situation. Stopped telling people the story. I just dropped it. I used my ease tools to keep connecting to ease. It felt much better, lighter and brighter. 
In May 2023, I realised that some emotional and energetic tendrils of dissatisfaction were strangling the fullest joy in my life, like a parasite vine slowly strangling its host plant. 
It feels to me that since the start of Covid, many shadow energies have surfaced in the world and our lives, sometimes without us even realising it.     
Shadow emotions are subconscious, and because we usually suppress them and aren't aware of them, they can be super sneaky and cause big nonsense in our lives.
And I see dissatisfaction as a sneaky emotion snaking through my energy system in the past 2 years without my awareness.
Dissatisfaction is a joy, fun and manifestation killer. 
It can creep into your work, your relationships, your finances, your body, your home, your family…  
In which area of your life Elizabeth, can you see some Dissatisfaction present?
In May, I started an Experiment. A Satisfaction Experiment.
I allowed myself to be DEEPLY SATISFIED with the things in my life.    
Deeply satisfied as I sipped my morning coffee while looking at my beautiful garden and listening to the birds.

Deeply satisfied while playing games and laughing with my son.

Deeply satisfied with teaching and guiding my students on the Money Magic program and basking in their shifts and incredible results.

Deeply satisfied while feeling the warm water of my morning shower sprinkle over me.

Deeply satisfied after a long conversation with my partner.

Deeply satisfied with my shared office space on a cobbled street next to an ancient castle. 
Satisfied with what I DO have rather than dissatisfied with what is not present.
I imagined this satisfaction radiating out of me too.
In the first week of my Experiment, I watched my son, Luke, eating what he calls "purple soup" – it's beetroot. He loves it. You can see – Deep Satisfaction.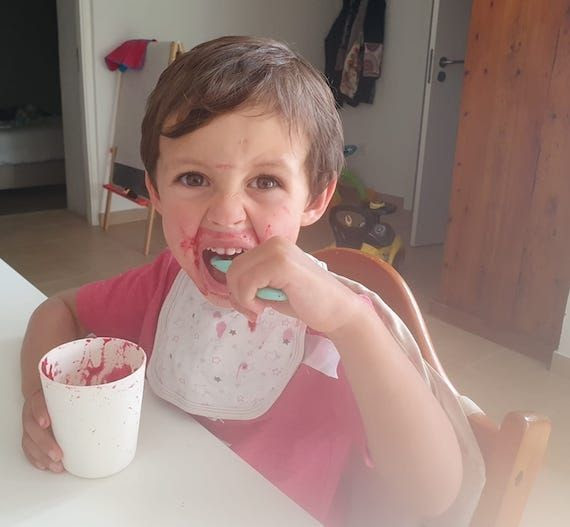 Many teachers share that Gratitude is a key to manifesting, and it is, but Gratitude can be very cerebral and superficial when there are shadow energies at play. 
A few months ago, I wrote to you and shared that Appreciation may be better than gratitude. 
My keyword for 2023 is Appreciation.  
And now I invite you to experiment with SATISFACTION.
For me, the Satisfaction Experiment has been profound:     
My joy has returned.

I'm feeling re-energised, relaxed and excited about my life.

I'm more connected to and grounded in my body.

My social life has blossomed.

I've had some exciting developments in some big goals I've been manifesting (watch this space, I'll share with you soon).
Satisfaction brings ful-FILL-ment– it makes you FEEL FULL, and from that fullness, you can give, serve, expand and manifest easily.   
If you feel you're running on empty or depleting your tank, please do this Satisfaction Experiment for a week (and I'm betting that doing it over this auspicious Solstice time amplifies the experience).       
And then pop me a comment below,  I'd LOVE to hear your experience.
Love this article? Share it with you friends: